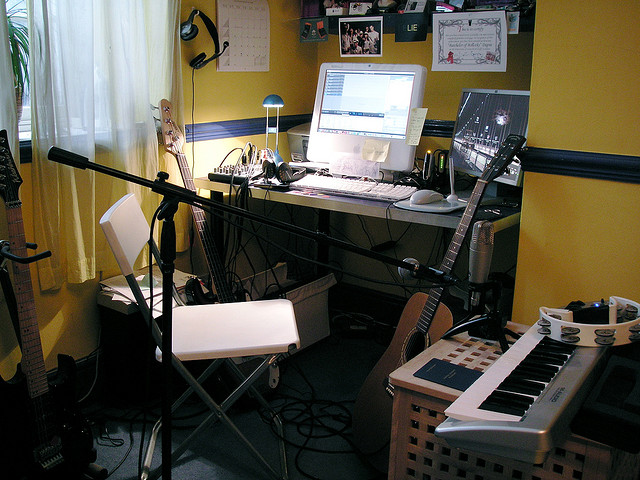 The cost to produce music is at an all-time low.
The price of music is… well… schizophrenic. A single track can be simultaneously obtained for free on BitTorrent, or purchased on the iTunes store for $1.29. Or you can stream it for next-to-nothing on Spotify, or for a fraction of next-to-nothing on YouTube. And you can still buy the CD for $14.95 to get that one song you like, if you're a masochist or retired.
The free music debate is often framed as an epic battle to save music itself. Proponents of stricter copyright enforcement claim that keeping these price points high is necessary to keep the quality of music high. Without the proper funding, musicians will make less music, or if not less, at least worse.
I think we can all agree that while the price of music is effectively (with streaming) or literally (with torrenting) free, the cost of producing music is anything but. There is real labor, real expense involved in producing an album.
On the one end of the spectrum, you have major labels paying over $1MM for a single. On the other, you have Nirvana's Bleach, a multi-Platinum-selling album made for $606.17 in 1989.
What does it cost to produce music? Whatever you want to spend, or can afford. That's the problem with putting the pricing debate in perspective — the costs to produce vary as wildly as the results. There have been plenty of multi-million dollar flops and home-recorded hits, so how can one ever put a definitive cost on music production? We can only assign a range of possibilities, but doing so does help illuminate the debate.
Before we talk production costs, there is something important to be said for the fact that costs vary wildly. It would suggest that pricing of music ought to vary wildly, at least somewhat in line with the cost to produce it. And yet, the basement DIY record and the multi-million dollar Rhianna album both retail for $1.29/track on iTunes. This is because the price of music is fixed by the big 3 record companies that control around three quarters of the global music industry. And yes, those same three major labels were the ones who negotiated how much artists get paid on streaming services — an amount that as we have seen is so paltry as to only be sustainable on a large, major-label market scale.
Point is, music should cost whatever the artist and their business team wants. This idea is often invoked by detractors of free access to music. "You can make your music available for free, that's fine," they say, "but I have the right to charge for mine." Which is true, and copyright makes it so — artists enjoy a monopoly over the right to distribute copies of their music at the moment they record or write down a song. The intent of copyright is to create value around this right, so that production costs (both in labor and materials) can be covered, and the production of music can flourish. So it would stand to reason that the value created by copyright would not remain fixed as production costs fall.
Nope. The major labels have consistently fixed the value of music copyright by litigating and legislating against any force that threatens to devalue music access fees. They have extended copyright terms to draconian lengths. Any technology that is outside of their price-fixing controls is sued out of existence, and the law is changed if it does not suit their litigious needs. Forget free access to music, the powers that be don't even want variably-priced music!
Major labels have enjoyed an effective monopoly over the monopoly that copyright grants artists. This happened because the value of copyright was not intrinsic, rather it was hitched to the ability of a business to exploit it. In the past, it was incredibly difficult for the artist to exploit their own copyright to create value — they had to sign their rights over to a label to be exploited. They didn't have access to the apparatus of production, marketing and distribution like they do today. Thus, the value of music copyright was in the value of being exploited.
Over the last decade, we've seen a major shift in the value of copyright, due in no small part to the falling costs of production. The cost of recording technology dropped to a fraction of what it once was. You can still spend a few million dollars building a state-of-the-art studio, but more and more are recording for less and less. Modern recording technology also speeds up the recording process considerably, so there are fewer labor costs.
Music listening is becoming a more participatory process, and more music is being made (via remixes, covers and mashups) just for fun or expression, without commercial intent. You can still spend a year writing an album, but plenty of musicians are vastly reducing the labor involved in composing an album by using technology to demo as they write, with feedback and collaboration happening at a faster pace.
Marketing costs are at an all-time low thanks to social networks and the ability of bands to connect directly with fans. You can still spend millions on a national marketing campaign (or get a consumer electronics company to underwrite it), but it's now possible to market an album guerilla-style, and catch on virally without spending a dime.
And don't get me started on distribution. Since the Napster days, the cost to distribute digital music has been effectively free. The real expense that these streaming sites have is not server bandwidth (a point that would be largely mooted by peer-to-peer technology). The exorbitant expense is in the labor required to seek out rights holders, get them to sign a digital service license agreement, and the accounting behind tabulating and paying out their share of the streaming pie. And when you're talking about having to negotiate with the big three majors, you better believe the expense is going to be as exorbitant as the top entertainment lawyers can manage.
Digital distribution is what truly democratized the music industry, and the genie is never going back in the bottle no matter how much the RIAA continues quixotically to cram it in. I can distribute my music worldwide via any number of retail aggregators (CDBaby, OneRPM, TuneCore, DistroKid, etc.) for the cost of a magazine subscription. I can certainly distribute it worldwide absolutely free as well. The cost of digital distribution is near zero, and has been for quite some time.
So, there we have it. The labor involved in songwriting (to the extent you can call it 'labor') has been slightly decreased by technology. The time and cost of recording has been drastically reduced. Successful marketing can be achieved at a fraction of former costs. Distribution is nearly free.
The cost to produce music is much lower than it was just a decade ago. Shouldn't the price of music adjust accordingly? Isn't the pricing of streaming much closer to what's fair for consumers? Doesn't the declining cost of music production dictate that we charge less — even nothing — for access music? When you factor in new opportunities in direct fan patronage, a growing live music market and greater demand for licensed music, shouldn't we continue to develop the intrinsic value of music as a service, and relax monopoly distribution rights on the music product in order to do so? This would be disadvantageous for the big three record labels, but a boon to most musicians and their fans, because a chance to be heard is a chance to be supported.