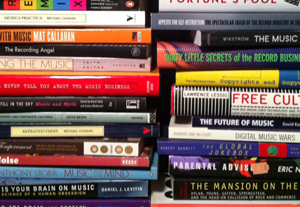 Well, folks, I'm back for another book update as the first month of project Mediapocalypse comes to a close. With the book having pretty much taken over my life at this point, on the rare occasion that I venture into the outside world I get the same two questions: How's the booking coming along? What's it about?
It's coming along great, thanks. As is my style, I've been inventing my own method as I go along, only to later find how close it is to the established process. This is most apparent in my focus over the last couple of weeks: the bibliography.
In many ways, writing a book is like writing an album. Songs are very much reconstituted from influences, or as Kirby Ferguson would say, Everything is a Remix. Similarly, a nonfiction book begins as the sum of its sources.
Since I first became interested in the subject a decade ago, I have amassed a voluminous library of music nonfiction. Thus, half of my bibliography was already done — I simply had to dust off my MLA style guidelines and start typing.
I am unashamed to admit that during the rest of the bibliography process, I got a huge assist from Amazon.com. Once I had catalogued my own collection, it became clear that I had a single mission: to find any and every other book that would be a useful source. Luckily, Amazon.com made discovery painless, with its related product referrals and faceted search. Even better, it was easy to ascertain the quality and content of the works via customer reviews and the 'look inside this book' feature. What's a library again?
My bibliography (at least the book portion) is now complete. I'm sure to find a handful of secondary and tertiary sources during the writing process, but right now I feel super-confident about my factual foundation.
Posting the bibliography before the book seems sacrilegious and anticlimactic — like playing an audience tracks from your favorite artists and then asking them to guess what your album will sound like. Instead, I will give you some stats…
There are 107 nonfiction book titles currently in my bibliography, comprised of 17 primary sources, 34 secondary sources and 56 tertiary sources. I read each primary and secondary source carefully, and key passages are highlighted and marked on a 1-4 scale of importance. Any relevant notes are scribbled in the back of the book (or, on the iPad, in Evernote). The tertiary sources are skimmed rather than read cover to cover. Many of these are the dryly academic texts, from which I am seeking only to mine facts and evidence.
Of the key sources, I'm 30 for 51, meaning I have 21 more full books to read, along with a few dozen tertiary sources to skim. Yeah, that's a lot of reading. At present, I'm reading at about 150 pages per day, which averages to around three nonfiction books per week, so I should be done sometime in mid-June.
Thinking myself rather smart for inventing the bibliography-first method of nonfiction book writing, my lovely wife, who holds a Master's Degree to my High School Diploma, pointed out this has been standard practice for decades. Maybe I should pick up a book on nonfiction writing? Nah, making it up as I go along is too much fun.
Enough with the reading, you say, how is the actual writing going? And what the hell is the book about?
My writing process at this point is essentially the opposite of pulling meat off the bone. Poring through my source notes, I attach meaty facts and concepts to my skeletal outline in a program called OmniOutliner, nesting text into hierarchies. In the process, themes and topics emerge almost organically. In a way, I'm not deciding what the book is about explicitly — the patterns in my notes of interest are telling me what it's about.
The dispassionate answer to the topical question can be found in a tag cloud. I tagged each of the books in my bibliography from a list of 60 terms describing topics, and then fed them into TagCrowd to see what my major themes were. Here were the top 20:
business, cognitive, commodification, copyright, corruption, culture, digital, history, industry, legislation, listener, litigation, meaning, musician, neuroscience, origin, philosophy, society, sound, technology
I think that's a pretty good description of what I'm going for. But to give you a better idea, I will share with you the general structure of the book, in terms of the major "parts" that I will organize chapters within. This builds off my decision to proceed chronologically, interweaving the story of the musician, listener and industry to build my overall thesis. It's shaping up to be a sort of "People's History of the Music Industry" Howard Zinn-like epic retelling of history from the perspective of its losers — in this case, musicians.
After a typical introduction, the book will be comprised of three major parts:
Part I tells the story of the origin of music, and how musicians and listeners came into being. I seek to answer the question "What is music?" by defining the relationships between these two groups, using all the interdisciplinary tools at my disposal. This epic story spans from millions of years ago to the dawn of the 20th century, as we end Part I by introducing the origins of the music industry.
If Part I tells the story of how and why musicians, listeners and industry came into being, Part II describes how the industry came to dominate the relationship shared by those groups. Over the course of the 20th century, we witness the subjugation of music's meaning and purpose to commerce, and examine the paradox of popular music. This section appropriately ends with the rise of Napster at the beginning of the new millennium.
Part III brings us from the digital music revolution to our present-day crossroads. This is where the payload of my thesis is delivered. The narrative threads of musician, listener and industry culminate in a blunt and critical appraisal of why the record business deserved to die, and the unprecedented opportunities listeners and musicians have in the aftermath of the industry's fall. It ends by looking ahead to the new business of music, and how digital technology will continue to shape its future.
I'll wrap it all up with a unique epilogue, which will use the book's content to look ahead to chart a futuristic vision of the relationship between musician, listener and industry during the rest of the century.
In the end, I hope to publish a book that can be enjoyed by musicians, listeners and industry alike, though they may all get something different out of it. Core to my mission is to challenge readers to reconsider everything they thought they knew about music, and to become a more active participant in its creation and/or consumption.
That blog post may have been a book unto itself, but what can I say, I've got the writing bug. Stay tuned for more updates and announcements.