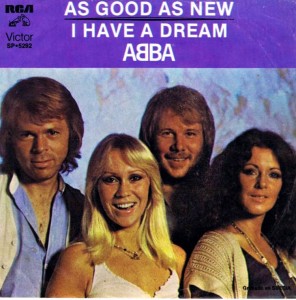 I was reading about a new IFPI report on digital music and how 1 in 5 U.S. music consumers now subscribes to a music streaming service. Man, we are really slow to get this whole future of music thing.
The article says "Of course the number is off the charts in Sweden," and sure enough, a whopping 48% of Swedes are using some sort of music subscription service. But I couldn't understand why the article said "of course", as if it was supposed to be self-evident to me that Sweden would lead the world in streaming music.
As your typical xenophobic US citizen, I revered Sweden as a clean, pacifist, rich and equal society full of well-cultured, well-educated citizens. But I wondered, why are their music fans so evolved?
My first stop was the Swedish popular music Wikipedia page. With a population of around 9.5 million (just a million over New York City), its hits-per-capita has been through the roof since the 70s. ABBA, Europe, Roxette, Neneh Cherry, Rednex (OK, could have done without that one), Robyn, Basshunter, Nina Persson, The Cardigans, Ace of Base, The Soundtrack of Our Lives, Avicii, Meshuggah, In Flames, Opeth… the quantity is matched by diversity. This isn't even to mention Swedish producers like Denniz Pop and Max Martin who have written some of the biggest hits for U.S. artists in the past couple decades.
Is it something in the cool, crisp, refreshing Swedish mountain spring water?
Well, it was time to hit the offical Sweden Wikipedia page. I quickly found some more clues:
About 85% of the population live in urban areas.
Sweden has the world's eighth highest per capita income.
The country is ranked as the second most competitive in the world by the World Economic Forum.
Sweden is one of the world's most equal countries in terms of income.
Money and urban living certainly add up to heavy music consumption, but let's dig deeper into the Music subhead:
Sweden has a prominent choral music tradition, deriving in part from the cultural importance of Swedish folk songs. In fact, out of a population of 9.5 million, it is estimated that five to size hundred thousand people sing in choirs.
Wow, so 15% of Sweden's population sings in a choir. What do 15% of American citizens do?
OK, well, that's depressing. Looks like the so-called "cultural leaders" of the world's IP economy could learn a thing or two about music culture from the Swedes.
I Googled a little deeper and came across a 2010 Pitchfork.com article asking "What's the Matter with Sweden? Wait, there's something wrong? It starts:
"The first time the Knife got money from the Swedish Arts Council was in 2001… The electro-pop duo received 45,000 Swedish kronor (SEK), or about $6,327 — 'pretty standard for albums back then'"
Wait, what? The Swedish government gave an eletro-pop band $6K to record an album? Can you imagine what Southern Republicans would say if the Bush administration gave Gwar $6K?
Reading down the article, one quickly realizes Pitchfork was just pulling a hipster fake out on you, and there really isn't anything wrong with Sweden. Everything looks right.
Sure, it takes a tax rate around 50% of GDP (it's closer to 28% in the US), but it adds up to tens of millions of dollars in arts and music funding. We've got the National Endowment for the Arts, but try getting a grant out of them for your electro-pop band.
Could it be that simple? Could Sweden's secret be public funding of the arts?