We'll be remembered as the awkward generation that carried around small glass-and-metal bricks, pointing them at things of interest.
Seriously, have you been to a concert lately? Half the crowd is holding up an iPhone or Android device, taking the same grainy video with crap audio from a slightly different angle than the other three thousand people holding up their devices. It looks ridiculous.
Before I come off as some sort of elitist snob or luddite, let me say I celebrate those three thousand people and the video they take, however unwatchable I personally might find it. Who am I to declare someone's creativity 'crap' just because it doesn't relate to me? So what? 99.9% of everything ever created doesn't relate to me!
So many technophobe critics make the embarrassing mistake of uttering something like: "More people that ever are creating, but most of it is crap." When has that not been true? Crap has far outnumbered substance for as long as I can remember. Why not celebrate the fact that everyone is creating their own meaning? To the people in the crowd and their friends, that grainy video of their favorite artist is the coolest thing ever — not because it's an amazing work of art but because it encapsulates a personal experience. There's a wide range in between and it's all valid creativity.
Like Douglas Rushkoff points out in his new book Present Shock, we are a generation that's actually heeding the advice "live for the present" — perhaps a little too much, in fact. We are in our own little bubbles of curated niche content, and you can look at that as good or bad. Withholding our judgements for the moment, let's allow that mobile devices allow this to happen and it's only going to accelerate as we enter the "Google Glass is kind of a glimpse into the future.
Let me say right here that I think people who regard Glass as a fad are fools. Comparing Glass to the Segway or the Bluetooth headset may make haters feel better, but there's really nothing new about the Segway or the Bluetooth headset. We've had motorized people-movers and wireless earpieces for decades. We've never had the ability to record visual and auditory memories as they are perceived. Our devices come close, but we have to hold them up in front of our faces and point them around. The hand will always be utilized for finer control — it's not like hand-held devices are going to vanish. But for the purpose of recording pure audiovisual memory, Glass is the penultimate experience before our brains get jacked directly into the Web.
Glass is like a "selfie" of the soul… and you see how popular those are. "Selfies", I mean, not souls.
Anyway, if you think people will be laughing at Glass-like devices in ten years — when they're indistinguishable from regular glasses — you've got another thing coming. You're the one people will be laughing at, pointing your glass brick around the room like a senior citizen, blocking my view at the Rolling Stones hologram show.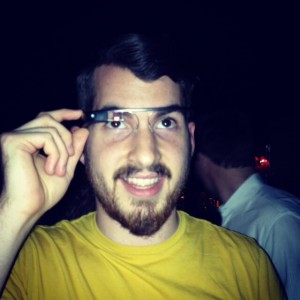 We get it, Glass looks silly and stupid now. So did the World Wide Web!
Okay, we got that out of the way: Glass is here to stay. So, the question I'm most interested in asking is: how will it change music?
We will certainly look back and cringe at the photos and videos we took of 100 other people with their arms up taking photos and videos of a tiny, blurry blob that might be a musician. When we go to a music festival 10 years from now, there may still be a few hands in the air with a handheld device trying to get a better shot. But plenty of people will prefer to capture the entire experience as they experienced it — not just the stage but the epic fight through the crowd to get to the front. Not just the hit single but also the cute person you met in the beer line. The music — as always — will be the thing that brings all these people together, and the technology will facilitate the connections.
It's also going to offer an incredible window into the musician's lifestyle. Fans will live vicariously through their idols — it's the logical progression from the celebrity-worship happening on Twitter right now. Hordes of amateurs will quickly realize they too can live broke and free like a musician, listening to records and jam all day, party all night, and sit in a van for eight hours. That last part will probably not be Glass'd.
Musicians will evolve as well. What we're really talking about is wearable devices with long battery lives and cloud-based storage with Wi-Fi access. That's a very specific (and first-world) combination, but it's happening with greater frequency. In 10 years it ought to be commonplace in developed nations. For musicians, that means never losing a musical idea, because any time your device detects you playing music, it's going to automatically record. Every musician reading this just had a huge lightbulb go off. How many great songs are lost forever in the folds of our brains when we don't remember the tune?
For those familiar with copyright law, a musical "expression" is "fixed" when it is recorded, and you are immediately granted copyright protection. Anyone with Glass and a guitar will be a walking copyright machine! The copyright industry can't handle today's complexity, they might just buckle under the weight of this new Glass-enabled consumer-creator.
Music discovery will become visual as well. All you need to do is look at the logo on a band T-shirt and say a simple voice command, and you're watching their music video. If one of your friends mentions a band you haven't heard, within 60 seconds, you have. It's possible now with our mobile devices, but the amount of tapping it takes to get the end result isn't worth it. Are you beginning to see the true power of Glass? That it's not so much the things it does but how it does things?
To be sure, there will be Glass experiments that don't work. I wouldn't want to watch too much of a show from a musician's point of view — it's all hot, bright lights and awkward, sweaty faces. Too much access could demystify artistry, which to an extent is awesome and democratizing, but artists need to retain some sort of mystique to distinguish themselves from the herd.
You'll never use Glass in a casino or while taking a final exam. It' won't be socially acceptable in every place at every time. Neither are today's mobile devices.
But everyone will be wearing them at the concert, backstage, at rehearsal, in the studio — wherever music composition, performance or recording is being done. Not everywhere every time. But it's undeniable that wearable devices like Glass and its ilk will become a big part of the music culture.
A lot can happen in ten years, but everything I mentioned here has an analogue in the way we use our glass-brick mobile devices today to record our musical experience. Through the Glass, exciting new rabbit holes will appear through which we can dive deeper into the music we love.